Its All In The EXP

A few weeks ago the North American StarLeague had its grand finals in Toronto (really in Mississauga but as far the world is concerned Canada has only Toronto, Vancouver & Montreal) , and I had the honour of attending. While sitting through the finals I couldn't help but feel something was missing. No it wasn't air conditioning, it was very well ventilated. It wasn't presentation, because the folks at e-Sports Canada made sure the event looked stellar. What I felt was missing was a memorable experience.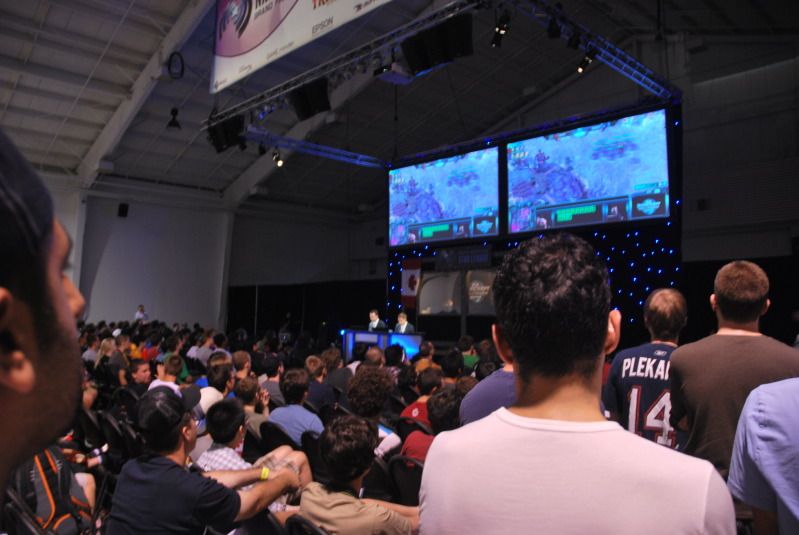 Crowd is on the edge of their seat
Mark Cuban wrote in a
passionate blog
about smartphones being integrated into the Dallas Maverick's experience. He counters the concept with the 'Fan experience' , where when you attend the game there are alot of factors that contribute to your fan experience that make the event more memorable. He says " I am not in the basketball business I am in the bussiness of selling fun".
This got me thinking about my experience at NASL vs my experience at any fan based event. So I tried to dissect and generate ideas of what makes a memorable esports event.
ahh.. Headplay, I use to have one, but don't remember where it got to
Sponsor interaction
Sponsors do much more than support the event, a great sponsor will find ways to help enhance your experience at an event in a unique way. I think back to 2007 when I attended MLG Toronto at the nDex. There was new tech to play with, and swag to collect. MLG's sponsors were out in full force displaying their latest products and stuffing information about those products in my hand. NASL had some prizes thrown out but I didn't win, only one person can win the prize. How can everyone 'win' something from Kingston Hyper X? discount at a Canada Computers perhaps ?
Relevant Additional Programming
NASL had additional programming in the form of World Championship Series, Tribes , Colliegiete StarLeague , and show matches which were interesting but I didn't feel it integrated
very well. I really wanted to get to know tribes but having no prior knowledge, understanding or even experience of the game, it came across as an interruption which is a shame because it looked fascinating. Perhaps a play the tribes pro, with a free lesson would of helped me or tribes free play station on the competitor PCs that were no longer in use.
For the viewing experience there were interviews & funny videos but these were things I could of gotten from staying home and watching the stream, It was hard for me to find the extra value (aside from getting something signed) in being in person and spending the extra dollars on the live stream. Where was my prize for the travel and dedication?
I will always remember DDR in a business suit
Memorabilia
Shirts with the event name are awesome, NASL had shirts & hoodies available which I am sad I didn't grab one. Not sure
what at an esport event I could find that would have sentimental value, personally I am not a big autograph person, and maybe its just me but the things people get to sign don't resonate with the experience. I know in baseball if someone hits a home run and and you get that player to sign the ball it means alot more than buying a baseball at the giftshop. Though asking a player to give up their winning mouse / controller might be asking too much so a signed Starcraft 2 box will have to do for some. It might be cool to be able to buy Team jersey's at the event.
meeting T-Squared was awesome
One thing I do like is getting pictures with casters or pros, unfortunately at NASL I must of missed a program guide because it almost seemed random at when a signing or photo op would occur.
At the end of the day, I still loved NASL, the event was enjoyable. I had a good time and though I didn't leave with a pocket full of swag, or sweet badge like the players/ VIPs, I did get see some some well casted games. I just hope for next NASL event they will carve the name NASL on my soul with a bang up experience.
This list is far from complete: I would love to know what other think make an event memorable in the comments. I might make a part 2